2018年5月に幕張メッセにて行われた学会「日本地球惑星科学連合2018年大会(JpGU)」にて、セッションを主催し、また研究室メンバーが多数の発表を行いました。
山敷教授が代表コンヴィナーを務めるセッション「陸域海洋相互作用」は、今年で九年目を迎え、惑星科学と陸水・海洋学関係者が発表を行いました。招聘講演として、火星の土石流に関する発表を成瀬理学研究科准教授が行い、また惑星の水分布を考慮したハビタブルゾーンの定義について児玉東京大学助教が行いました。佐々木理学研究科助教は氷惑星に関するハビタブルゾーンの定義について高圧氷を考慮にいれた再定義について発表し、また、ブリストル大学トムスコット教授は、AUVを用いた放射線マッピング技術の紹介を行いました。またJosko 防災研究所研究員は、海洋からの流出と波の影響について発表を行いました。立命館大学のJohn Wells教授が沿岸音響共グラフィーについて、ベヘラJAMSTEC APLラボ長による、インド洋の夏季のモンスーン期降雨の影響(IMSR)の経年変動に対するインド洋ダイポールモード(IOD)の影響の発表などが行われました。
当研究室関連では、上田 翔士研究員が、SPHを用いた土石流三次元シミュレーションについて、Shweta Yadav研究員がリモートセンシング技術を用いた沈水植物判別手法の開発を、黒木龍介博士課程大学院生が我が国の河川からの海洋への流出について発表を行い、また村嶋慶哉さん(理学部3年生)も、氷惑星の内部海生成メカニズムを想定したSPH計算の結果の発表を行いました。
JpGUは日本各地から研究者が集まる非常に大きな学会となっています。
多くの方々と積極的に議論を行うことができ、非常によい機会となりました。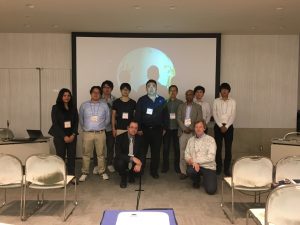 Professor Yamashiki served as a representative chair, and his laboratory personnel related to planetary science and oceanography made presentations. As an invited lecturer, Professor Naruse of the Graduate School of Science presented on the debris flow of Mars, and Assistant Professor Kodama at the University of Tokyo conducted the definition of a habitable zones considering water distribution of the planet. Assistant Professor Sasaki, from the Graduate School of Science, presented on the definition of a habitable zones on icy planets, and Professor Tom Scott at Bristol University introduced radiation mapping technology using AUV. Researcher Josko Troselj, from the Disaster Prevention Research Institute also made a presentation on the outflow from the ocean and the effects of tidal waves. Professor John Wells of Ritsumeikan University announced the influence of the Indian Ocean Dipole model (IOD) on the influence of the Indian Ocean summer monsoon rainfall (IMSR).
From the laboratory, Shoji Ueda explored debris flow in a three-dimensional simulation using SPH, Shweta Yadav presented on the development of a method to discriminate submerged plants using remote sensing technology, and Ryusuke Kuroki presented on river outflow. Mr. Keiya Murashima (3rd year student of science) also made a presentation on the result of SPH calculations assuming the inner sea generation mechanism of the ice planet.
JpGU is a large academic gathering of researchers from all over Japan.
Information about the session:
The main purpose of this session is to promote discussion on mutual interaction between Continental zone and Oceanic zone. The global-scale material circulation induced by River runoff through oceanic general circulation as major topic on Continental-Oceanic Interaction, where the ENSO / IOD influence into continental climate as major topics on Oceanic-Continental Interaction. Numerical simulation and field observation of radionuclide transport from continental zone into ocean and its potential impact is also important topics of this session. The session also extend discussion on planetary hydrology and oceanography focusing on subserface ocean in Jupiter's moon & Ancient Martian Hydrology. This year, in addition to the two distinguished invited talk (Martian debris flow inverse analyses by Professor Hajime Naruse and Inner Habitable zone definition by Dr. Takanori Kodama), we'll have Deriving Radiological Transport Using Three-dimensional Radiation Mapping by Professor Tom Scott and Dr. Peter Martins at the University of Bristol. The topic covers, numerical simulation of tidal internal heat, numerical simulation of debris flow using SMP, IOD & IMSR analyses.
[A-OS12] Continental-Oceanic Mutual Interaction: Planetary scale Material Circulation
Convener: Yosuke Alexandre Yamashiki(Earth & Planetary Water Resources Assessment Laboratory Graduate School of Advanced Integrated Studies in Human Survivability Kyoto University)
http://www.jpgu.org/meeting_2018/SessionList_jp/detail/A-OS12.html