Thiago Negrão Chuba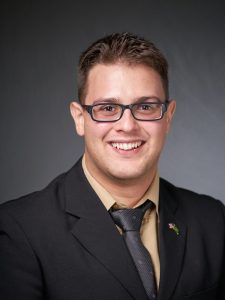 [Education]
2019-Present:
M.Sc. Student in Science and Technology
Graduate School of Advanced Integrated Studies in Human Survivability (GSAIS), Kyoto University
(Research Supervisor: Prof. Shuhei Furukawa)
(Program Supervisor: Prof. Yosuke Alexandre Yamashiki)
2016-2018:
MBA in Health Innovation Management.
Butantan Institute, Brazil
2014-2017:
B. Sc. in Biomedical Sciences
Ribeirão Preto Medical School, University of São Paulo, Brazil
(Supervisors: Prof. Yara Cury and Prof. Ana Marisa Chudzinski)
2009-2013:
Technical Degree in Mechanical Engineering
Technological Federal University of Paraná, Brazil
(Supervisor: Prof. José Aguiomar Foggiatto)
[Professional Experiences]
2016-2018:
Trainee in Innovation in Biotechnology
Center of Excellence in New Target Discovery, Butantan Institute, Brazil
2016-2018:
Chair of Executive Board
Sirius Biotecnologia Jr., Brazil
2015-2016:
Vice-President of Management
Centro Acadêmico Moura Gonçalves, Brazil
2012-2012:
Trainee in Rapid Prototyping
Nucleus of Additive Manufacturing and Tooling (NUFER), Technological Federal University of Paraná, Brazil
2007-2011:
Junior Scientific Training in Mathematics
Federal University of Paraná, Brazil
[Research Interests]
My research project is the development of "porous inks" with healthcare applications, i.e., liquid materials able to adhere to different surfaces with ease, and also not easily removed after deposition. Once printed, these molecules can be used for different purposes. This is possible once they are molecules with finely tuned structures, thanks to the aid of tools such as computational chemistry, chemical synthesis and specific assays to evaluation. In this way, a myriad of possible applications arises. Some of the most interesting of them are (1) sensing and diagnosis and (2) the development of radically innovative drugs.
Sensing and diagnosis fit into a healthcare trend called "point of care", a concept that claims that a patient health condition analysis should be performed quickly, simply and cheaply, in any environment (on-site). The other proposal is the development of drugs such as antibiotics, which are one of the most critical public health issues in the world. It has already been shown that porous molecules have significant antibacterial activity with action mechanisms that work at the molecular level, differing from the drugs currently found in the market. This
possibility is quite innovative and can be a solution to the problem of drug resistance.
These new functional materials can be used in innovative manufacturing techniques, fostering new technological applications and more specialized and sophisticated devices. In this context, it is proposed to apply a dispersion method widely known and adopted worldwide for other purposes: inkjet printing. This type of process is extremely attractive because it can be used in an inexpensive technology capable of achieving high processability rates, to allow to specifically print in large areas without contamination, to minimize amount of residues, to have a great processability in computer-aided design software (CAD) and to allow precise deposition on different types of surfaces.