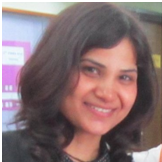 Shweta Yadav, Dr. Eng.
Post-doctoral researcher
An Indian national who has just completed her Doctoral research in Environmental Engineering from Kyoto University, Japan under supervision of Prof. Minoru Yoneda (Environmental Risk Analysis) laboratory, conducting a joint research with Prof. Yosuke Yamashiki laboratory.  Holds Master's degree in Water Engineering and Management (WEM), from Asian Institute of Technology (AIT), Thailand. Completed her Bachelor of Technology in Water Resource Engineering, from Sam Higginbottom Institute of Agriculture, Technology & Sciences (SHIATS), India.
Work Experience:
Worked as Research Associate, in Asian Institute of Technology (AIT), Thailand (2013-2014). Involved as a researcher in a project of CTCN (Climate Technology Centre & Network) and operational arm of UNFCC, hosted by UNEP.
Research Work:
Ongoing Doctoral research focuses on water quality and submerged aquatic vegetation (SAV) in Lakes. Application of Remote Sensing, GIS in identifying and mapping of SAV's and developing Bio-Optical Model for macrophyte species estimation in the Lake Biwa. This also include the laboratory analysis and in-situ measurements.
Previous research experience includes, water quality analysis and modeling of the Mun River Basin, w.r.t. land use change, the basin is also the part of the Mekong River Basin, in Thailand. The research work also includes, flood forecasting using Rainfall-Runoff model for Chao-Phraya river basin in Thailand.
Research Interest: Water Quality and Hydrological Modeling, Remote Sensing of Water, Eutrophication, Water and Environment related studies.
E-mail: shweta  at  risk.env.kyoto-u.ac.jp
Publication: 
Shweta Yadav (Primary Author), Minoru Yoneda, Junichi Susaki, Masayuki Tamura, Kanako Ishikawa, and Yosuke Yamashiki (Corresponding Author). 2017. A Satellite-Based Assessment of the Distribution and Biomass of Submerged Aquatic Vegetation in the Optically Shallow Basin of Lake Biwa, Remote Sensing 9(966); doi:10.3390/rs9090966